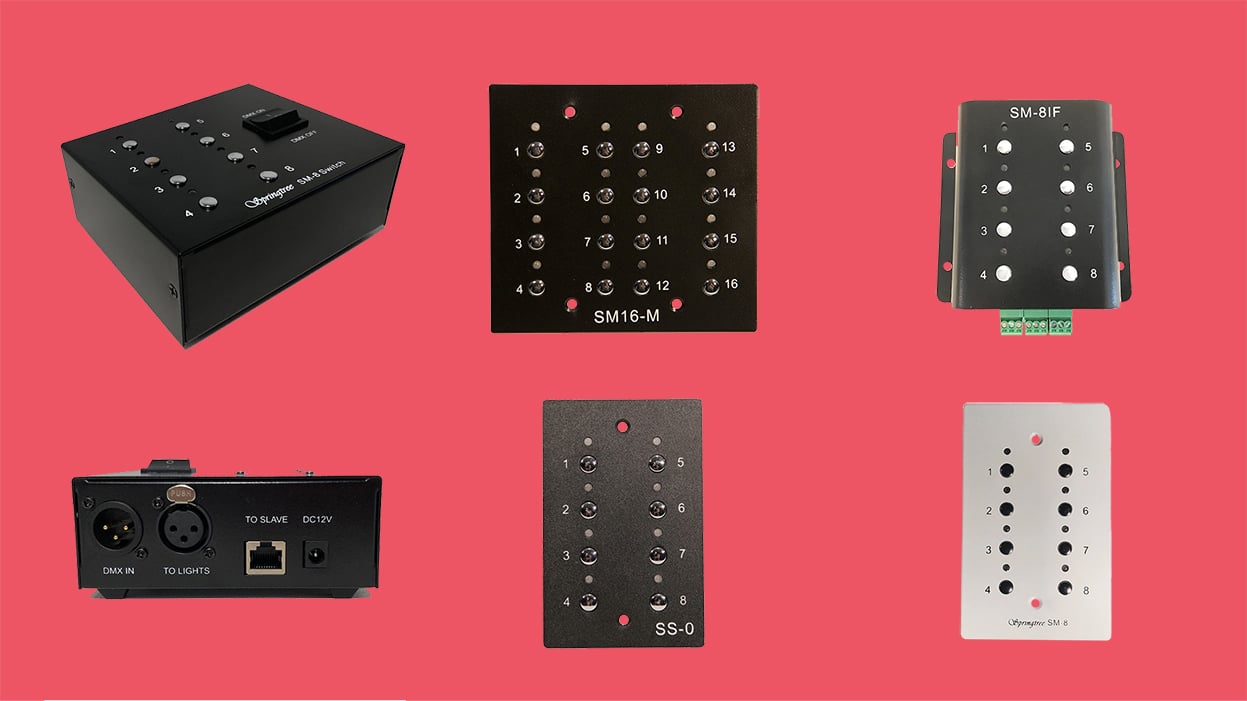 DMX Control Stations
Simple + Affordable!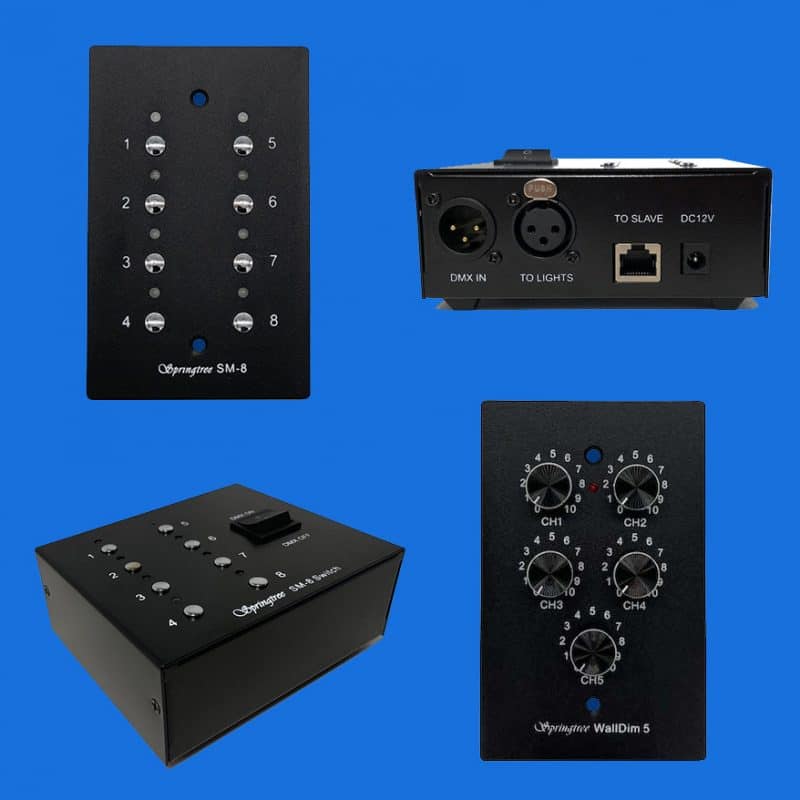 DMX Control Stations
Simple + Affordable!
What Are DMX Control Stations?
DMX Control Stations are the easiest way to control your lights for everyday use. They allow you to have your most-used scenes available at the press of a button. They are the perfect solution for volunteer-heavy facilities like churches and schools.
Once programmed, Control Stations can be used by themselves or in tandem with a lighting controller. Many venues use DMX Control Stations for everyday use and their lighting consoles for events and services.
Why Springtree?
Springtree DMX Control Stations are simpler to install and program at half the price of any comparable product!
The SM-8 Wall Station
The Original- The SM-8 is a Wall Mountable DMX Control Station that lets you save 8 scenes with built-in fade times. They can be expanded via a Cat5 cable to up to 5 satellite stations for additional control points around your venue! 
$199.95 + free shipping!
"JUST WHAT I WAS LOOKING FOR!
We redid our light system in our church recently, (entire new dimming system) making our old architectural switches obsolete and unusable. I was racking my brain trying to decide how to make things work in the new space and I stumbled upon your product. It was much more affordable than any other options I found.
Delivery was prompt, installation instructions were easy to follow and programming it couldn't be simpler. The white color option looks nice and clean in our space as well. I bought a master controller which I installed next to my light control board in the sound booth and connected a slave controller near the room entrance for instant control upon entering the room.
The lockout feature when the board is running lighting cues worked exactly as I had hoped."
–Jonathan Miller
The SM-8 Switch
The SM-8 Switch is a DMX Control Station with 8 programmable scenes and a built-in switch for transferring control from this unit back to your lighting console and vice versa.  It can lay flat in your booth and it is the easiest way to control your DMX lights! It requires no installation. You can simply put it into the loop between your console and your fixtures, and you'll have 8 scenes at your fingertips!
It is expandable to 5 SS-0 satellite stations, so you can have wall mounted control points around your venue. It is the ideal choice for theaters and churches that want quick control of stage lighting during rehearsals. $269.95 + Free Shipping! 
Buy Now!
The WallDim1 is the perfect unit for controlling any single-channel DMX device or one channel of a multichannel DMX fixture.
The WallDim5 is perfect for controlling five consecutive DMX channels.
Stackable
Smooth 0-100% DMX Control
Addressable Via Dip Switches On The Back Of The Unit
Available In Black Or White
View All Wall Stations!