Springtree LED is all about simplicity, and we want to make sure you have all the resources at your disposal to successfully use our products. If you can't find the answer you are looking for below, please feel free to send us a contact form or to call us at 615-599-1505. Business hours are 8:30-5 Central Time.
My Computer Keeps Sending Out a DMX Signal
Wall Stations become inoperable whenever they sense DMX coming from the console. So when you need to use your console for a service/event, your light show won't be ruined by someone clicking a Wall Station button.  
Many computers running lighting software will continuously send out a DMX signal, making your Wall Station inoperable. Shutting down and closing out of your lighting software should solve this problem. If you are wanting to keep your computer up and running while using Wall Stations, we offer a Console Toggle Switch for $39.95. Console Switches are just an easy to use switch that allows your manually switch control back-and-forth between your computer and Wall Station.
Why Is My Wall Station Not Recording?
The most likely reason is that your Wall Station is not receiving DMX. If you are in program mode, and the light is GREEN, your Wall Station is not receiving DMX. There are two things to consider;
Is your wall station the first thing in your DMX chain out of your console?
Make sure your connections are good going in to the phoenix connector, double check that pins 2 and 3 are not backwards. A RED light will illuminate when the unit is receiving DMX.
Do I Need a Lighting Console?
Wall Stations require the use of a console to be programmed but can work independently once programmed.
Wall Stations work great with consoles. You can use your Wall Station for everyday use and your console for events. When your console is on and sending out DMX data, your Wall Station automatically becomes inoperable.
How To Program
Hold down buttons 1 and 8 to enter programming mode (light will turn red).
Set desired look on lighting console.
Press desired preset button 1-8. Light will flash. Scene is stored.
Set new look on lighting console.
Press another unused button or record over existing scene by selecting button. Up to 8 scenes can be recorded.
Repeat.
Hold down buttons 1 and 8 to exit programming mode.
Connecting DMX via Phoenix Connector
Each Wall Station SM-8 includes a Phoenix Connector for DMX. *Attention audio people: DMX is backwards from audio.* Most of the time pin 2 will be a white wire and sometimes it will be red. Pin 3 will always be black.
DMX Wiring
Pin 1 = Ground
Pin 2 = Negative
Pin 3 = Positive (Hot)
What are Desk Stations?
The SM-8 Switch is a Desk Station.
Desk Stations are self-contained DMX Control Stations that can sit flat on a tech table. They don't require any installation while also being expandable to up to 5 Satellite Stations via Cat5.
The SM-8 Switch features a built-in switch for changing DMX control from itself and connected Satellite Stations back to a console/computer, and back again.
Return Policy
A "Return Policy" often defines a company- who they are, how they intend to do business. Unfortunately, we have become a society that buys and returns with little thought added to the mix. This is mostly the fault of the large commerce sites that make it easy to buy and even easier to return. Remember, someone has to pay for all those returns- and that is all of us, in the form of higher prices. At Springtree Media Group, we refuse to do business like this. Our associates are field experienced, and available to discuss and answer your questions. They are never hurried, never on commission, and have no incentive to sell anything. In fact, in describing what we do at Springtree, I often say that we do not sell anything; We just connect people with the best tools to accomplish their task.
If we did not do our job correctly and what you ordered did not accomplish the task, we will gladly take it back.  If you just ordered something and asked no questions, we assume you did all of the research.  We may take it back and we might not.  A restocking fee of 0 to 20% may apply depending on the nature of the item.  In doubt?  Call and ask first. For most substantial orders consisting of larger quantities, we offer a demo program where you can buy a sample quantity at a reduced price with a full refund guarantee. That way you know if it's going to work for you.  If it does, you just saved some money…if it doesn't, send it back for a full refund. You can find the individual offers listed on the product description pages.
Did it arrive defective or broken?  We will make it right- immediately and on our dime.  Has an item failed within the warranty period?  We will do everything we can to remedy the situation. Different manufacturers offer different warranties, so ask before you buy. Bottomline:  We want our customers happy and will do every reasonable thing we can to ensure this. If you prefer to just order online with no interaction, then we are probably not your best choice.
Peter Vaque
Changing Order
If you need to change an order, please call or email us before the order gets shipped. 
Why Do I have To Inquire For Most Items?
Only select Springtree LED products are available for online purchase. For high ticket Springtree LED products, like Video Walls and Spatial Pendants, we want to talk with you to make sure we are connecting you to the right product. This is why we offer a demo program as well. To make sure our solutions are the best products to meet your needs.
Purchasing Other Brands: We list the price so you can get an idea of the cost, but then you have to click the "My Price?" button on each product page. This allows us to give you a personalized price without violating MAP. MAP stands for Minimum Advertised Price, and it's the lowest price online for which retailers can sell a product. 
What Is The Demo Program?
More than photos and photometric data, the best way to know if a fixture is right for you is to see them in your facility! The Springtree demo program offers a select number of the fixtures at a discounted price. If you love them, keep them at the discounted price, and order more. Not the right fit? Return the demo in 30 days, and receive a full refund. All you have to pay for is the return shipping. 
Available Demos Programs:
DMX Traits
Cycle through colors, increasing speed

Cycle through colors with fade in / fade out, increasing speed
Warm White
Color Temperature?
The Color Temperature of the Warm White Spatial Pendant is 3200K.
The Color Temperature of the RGBW Spatial Pendants is 6000K when LEDs are at 100%.
What Is The Demo Program?
The Spatial Pendant demo program includes 2 fixtures to try out in your own facility, at a discounted price! If you love them, keep them at the lower price, and order more here. Not the right fit? Return the demo in 30 days, and receive a full refund. All you have to pay for is the return shipping.
Click Me To Demo!
What Are Power Drivers?
Power Drivers are the power and control center of our Lo-Vo system. (See, what is Lo-Vo).
Lo-Vo fixtures are DMX controllable, low-voltage luminaires that allow you the freedom to illuminate your venue. We currently offer three Power Driver models.
What's The Difference Between The Power Drivers
What They Can Power
| | | | |
| --- | --- | --- | --- |
|   | DMX600 | DMX1200 | DMX1800 |
| 30Watt Spatial Flats | 16 | 32 | 48 |
| 30Watt Spatial Flats | 8 | 16 | 24 |
| 12Watt LED Board | 40 | 80 | 120 |
| LED Spatial Bars | 4 | 8 | 12 |
Important Differences To Note
The DMX600 gives you fewer control options than the DMX1200 & DMX1800.
The DMX1200 is the only rackable Power Driver.
The DMX1200 & DMX1800 can power different types of Lo-Vo fixtures; at the same time.
The DMX600 is all or nothing. It can power Warm White LEDs or color LEDs, but not both.
Warm White LEDs powered by the DMX600 can be split into 4 DMX controllable zone, but color LEDs powered by the DMX600 must be in one zone.
The DMX1800 does not come with a plug. It gives you the option to hardwire the unit if desired. (View manual for more info.)

The DMX600 & DMX1200 can easily plug into a standard wall outlet with the included cable. (Be sure the power outlet matches the required voltage for your unit.)
Here is an example of the different zone options you get with the DMX1200. The DMX1800 also offers similar zone options.
Warm White LED Engine vs. RGBWW
THE RGBWW Spatial Flats can produce a warm white, so why would you purchase the Warm White model? Because the Warm White model utilizes 100% of its LEDs when creating white. As a result, it is considerably brighter than the white produced by the RGBWW model.
Color Temperature?
Warm White Spatial Flats feature a color temperature of 3000K.
RGBW Spatial Flats feature a color temperature of 5500K when all LEDs are at 100%.
Available Options
RGBWW or Warm White LED Engine
30Watt or 50Watt
DMX600 or DMX1800 Power Drivers (see section on Power Drivers to learn the difference)
General Questions
Why Does My Video Wall Look Bad On Camera?
Does your LED Video Wall look great in person but have a strange rippling pattern on camera? That is called a moiré pattern and is one of the many challenges that we assist you with when installing a Springtree LED Video Wall.
The Solution
The best way to minimize the effect is to set your video wall to a 3840hz or higher refresh rate. Every Springtree Video Wall is preset to 3840hz.
*Pushing your refresh rate higher than this can result in a loss of its ability to create true blacks in its display.
We also help preset your camera's settings and positions to minimize any moiré pattern in your live stream.
What Is Pixel Pitch?
Pixel Pitch is the distance between a Video Wall's LED Clusters, also known as pixels. Pixel pitch is important to pay attention to because it determines how far the wall needs to be from your audience. It also correlates with price. The lower the pixel pitch, the higher the price.
A way to do a rough estimate is the 10x rule. Multiply the pixel pitch by 10, and that is the rough distance your audience needs to be away from your wall. So a 3.9 pixel pitch wall would need to be 39 feet away from the nearest audience member. Springtree offers a 3.9 and a 2.9 pixel pitch wall. If you need a different pixel pitch, or an outdoor wall, please contact us directly.
Price Difference Between Projectors And LED Walls
A Christie D13WU-HS HD DLP Solid State Projector (Black) Costs $22,970.00.
A 9' H x 16' W ShadowBox Clarion Fixed Projection Screen Costs $2,419.00.
Projector + Mount + Screen + Installation = estimated cost of $26,500.
A beautiful 2.9 Pixel Pitch LED Video Wall with installation would cost approximately $32,550 (Location and conditions may affect price) for 45 Panels at 8.2" H x 14.76′ W.
What Is Lo-Vo?
Lo-Vo means low-voltage and refers to a group of Springtree LED fixtures powered by a Lo-Vo Power Driver.
The catchphrase for Lo-Vo is, This Changes Everything because it is a one-of-a-kind system that brings a new level of ease, affordability, and flexibility to architectural lighting.
What Are The Benefits?
Huge energy savings! You will barely notice your meter move.
Fixtures are cool to the touch with no moving parts, for a long fixture life!
LoVo fixtures are installed with affordable low-voltage cable. Not having to hire an electrician to run expensive armored cable will save you a fortune!
Most states do not require you to pull a permit for low-voltage installations.
Great performance shouldn't cost more, our LoVo fixtures are affordable!
LoVo systems are very safe for a handy person to install themselves.
Are Spatial Pendants Lo-Vo?
Spatial Pendants and Spatial COB Washes are not Lo-Vo. 
Spatial Flats and Spatial Flat Pendants are Lo-Vo.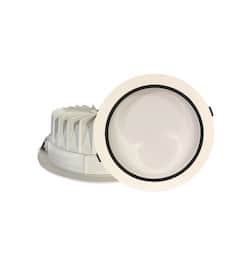 Color Temperature?
Our Warm White Economy Ellipsoidal features a 3200K color temperature.
Our RGBWW Economy Ellipsoidal features a 6000K color temperature when all LEDs are at 100%.
Why Use An Ellipsoidal?
Ellipsoidal fixtures are an essential part of stage lighting because they let you frame your field of light. This allows you to avoid lighting screens or background elements while illuminating specific segments of your stage. 
Are They Flicker Free?
Yes! Spatial Wash COBs are designed for use with film and are one of the most popular fixtures for use with live streaming.
RGBWW Fixture DMX Traits
| | | |
| --- | --- | --- |
| Channel | Function | Value |
| 1 | R   Red Intensity | 0-255 |
| 2 | G   Green Intensity | 0-255 |
| 3 | B   Blue Intensity | 0-255 |
| 4 | W   White Intensity | 0-255 |
| 5 | Dimmer | 0-255 |
| 6 | Strobe   Slow to Fast | 0-255 |
| 7 | Macro | 0-255 |
Macro Functions
| | |
| --- | --- |
| 0-10 | Nothing |
| 10-129 | Cycle through colors, increasing speed |
| 130-249 | Cycle through colors with fade in/out, increasing speed |
| 250-255 | Nothing |
Color Temperature?
The Spatial Wash COB RGBWW has a color temperature of 6000K when all LEDs are at 100%.
The Spatial Wash COB WW has a color temperature of 3200K.
What Makes It Affordable?
Spatial COB Pars are perhaps the most affordable way to wash a stage. This is due to their wide beam angle, which means fewer fixtures are required to cover a zone. That beam angle + their powerful output + their ability to blend beautifully in multiples = a beautiful wash that is affordable.