Spatial Flats Installation Guide
Spatial Flats are part of our Lo-Vo Architectural Lighting System. Lo-Vo was designed to be easy and safe enough for any handy person to install. This guide helps walk you through your installation of a Spatial Flat system. Need additional help? We are just a phone call away!
Important Considerations
This installation guide was made with 30Watt Spatial Flats and the DMX600. 

Other DMX Drivers will be installed similarly.

30Watt Warm White Spatial Flats are installed using 18/2 wire. 

All other Spatial Flats use 18/5 wire. This includes 30Watt RGBWW Spatial Flats, all 50Watt Spatial Flats, and all Spatial Flat Pendants. 

Spatial Flat Pendants and 50Watt Spatial Flats will be wired like the 30Watt RGBWW Spatial Pendants in the video/section below.
Phone Number
Spatial Flats are powerfully bright, low-voltage, DMX controllable, recessed LED fixtures. They are powered and controlled via a Power Driver.
Available Options 
RGBWW LED Engine

Warm White LED Engine

Standard Size (30Watts)

Larger Size (50Watts)
Introduction to Spatial Flats
Hey guys, we hope you enjoy this installation guide! We have tried to make it as comprehensive as possible, but if you have any further questions, please feel free to call. We are here to help!
Who Can Install Spatial Flats? 
Any handy person can safely install these low-voltage fixtures. 
Tools Needed
Wire Strippers
Wire Nuts
Micro Screwdriver
Optional 
Adjustable Hole Saw Cutter
Wire Needed
We use 18/2 wire for the 30Watt Warm White Spatial Flats. 18 is the gauge and 2 is how many wires are in the jacket. We have seen no problem running lengths up to 150′. 
All other fixtures, including the 50Watt Warm White Flats, require 5 wires. We use 18/6 wire (one extra wire) because it is affordable and in a pull box.
How To Cut The Ceiling Tile
How To Daisy Chain The Spatial Flats Together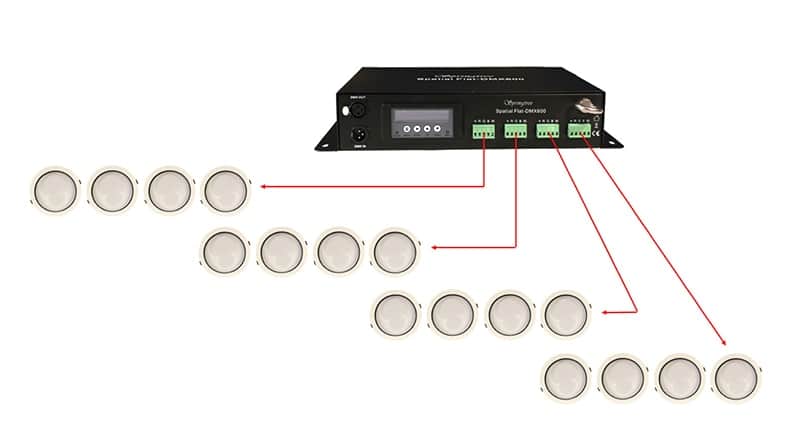 *Note: There is a new version of Spatial Flats
The old version of Spatial Flats came with a whip in a T shape (as you will see in the following installation videos) for separate in-and-out runs.
The new version features a single whip, where you wire nut same color cables together to daisy chain four fixtures together.
Daisy chaining the RGBWW version is similar to daisy chaining the Warm White version (so be sure to reference the above video). The only difference is that you will be connecting 5 wires instead of two.
*This is also how you will wire all types of Spatial Flats (including 50Watt Warm White Spatial Flats) other than 30Watt Warm White Spatial Flats.
How To Connect To The Driver
How to connect warm White fixtures to the driver

We now offer multiple power drivers for greater flexibility. Check out the link below to view the differences between the various Power Drivers.
| | | | |
| --- | --- | --- | --- |
|   | | | |
| 30Watt Spatial Flats | 16 | 32 | 48 |
| 50Watt Spatial Flats | 8 | 16 | 24 |
| 50Watt Spatial Flat Pendants  | 8 | 16 | 24 |
Click here to learn more about Power Drivers!
The Difference installing the larger 50Watt model
| | | |
| --- | --- | --- |
|   | 30Watt | 50Watt |
| Recommended Height | 7' -14' | 8′-20′ |
| Recommended Spacing | 6'-8' Centers | 6'-8' Centers |
| Fixture Diameter | 8″ | 10″ |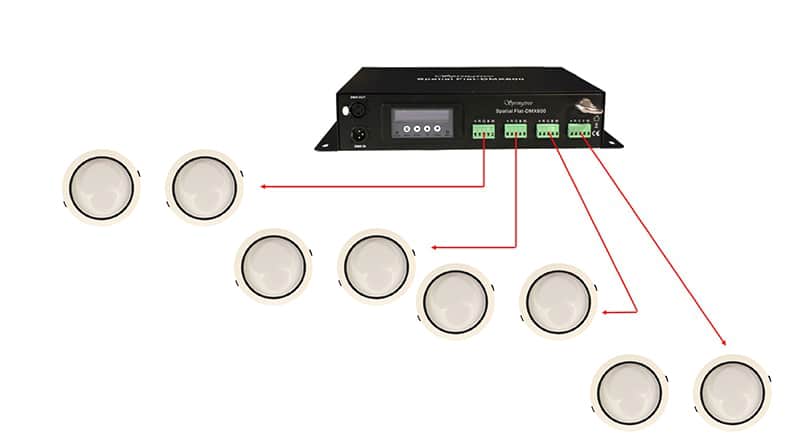 The larger 50Watt model utilizes the same driver, but at half the fixture count. The 50Watt Spatial Flats have a maximum of two fixtures per run for a total of 8 fixtures when using the DMX600 driver. 
Shop For Spatial Flats!