Never Use 0-10 Volt Dimming!
*our rant begins at 2:40
How it started- It has been our experience that many engineers copy and paste from project to project to simplify their process, with the result being the standardization of a terrible product. 0-10v began during the transition from traditional architectural dimming of incandescent lighting to more energy conservative fluorescents. Fluorescents were never meant to dim, but clients would insist, and 0-10v dimming was created. The new dimmable fluorescents were choppy, and inaccurate.
High quality LEDs have moved in to become the new standard, but that choppy 0-10v dimming would be applied to LEDs! High quality LEDs with beautiful 0-100 dimming curves were now made choppy and inconsistent. DMX relays had to be used to even make a 0-10v work, with the result being the fixtures will just snap off when they hit 0v. So our opinion, from over twenty years of experience working with dozens of partners who hate their 0-10v expensive lighting systems, is, Just Say No! Don't let yourself get talked into 0-10v dimming!
AN ALTERNATIVE?
We suggest going with standard DMX dimming that allows you access to that full 0-100 dimming curve! There are many great pro options out there! We just released an affordable, low voltage product, that is easy to install. Our Spatial Flats are a 30Watt, DMX controllable, recessed LED fixture with either a RGBW or Warm White LED engine, for creating beautifully bright light. We also offer a LED Spatial Pendant for higher ceilings.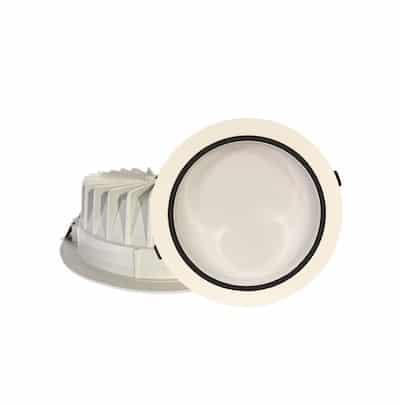 Thanks for reading!
Remember, Just Say No!